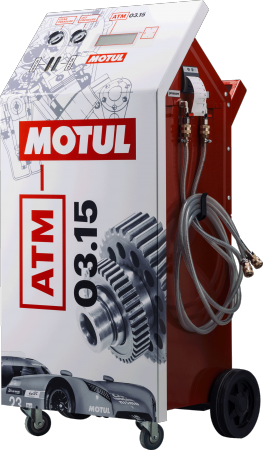 TECHNICAL DATA
The high experience of MOTUL in the technical field has allowed the specialists of the company to create a machine model called ATM 03.15. Developed for the complete replacement of the oil of the automatic gearbox, being able to be used for the maintenance of any type of automatic transmissions.
It represents a professional avant-garde solution for the correct maintenance of the boxes; It can be used in automatic or manual mode, guaranteeing safety throughout the maintenance process.
The station is designed with high quality components, with a simple design to guide the user, step by step and thus avoid errors, allowing an agile and professional use.
CARACTERÍSTICAS FUNCIONALES

- Operación automática o manual.
- Relojes de presión para asegurar la correcta conexión y funcionamiento.
- Compensa la cantidad de aceite nuevo introducido con la cantidad de aceite usado aspirado (100ml), asegurando la presencia constante de aceite correcto en el sistema y llevando acabo la operación completa sin riesgos para los componentes de la caja.
- Permite la introducción de aceite manualmente para hacer nivel, al final de la operación.
- Filtro interno imantado para retener las particulas metalicas presentes en el aceite usado. 
- Manómetro para detectar obstrucción del filtro.
- Medidores de flujo retroiluminados para la inspeccion visual del aceite.
- Señal acustica para el aviso de finalización en cada operación realizada.
- Sensor de temperatura del aceite.
- Impresora. 
CARACTERÍSTICAS AUTOMÁTICAS

- Introduce el aditivo de limpieza (Transmission Clean)
- Filtra las impurezas del aceite a través de un filtro magnético.
- Vacía aceite cárter.
- Cambia aceite del convertidor.
- Introduce aceite nuevo en el convertidor.
- Introduce aceite nuevo en el cárter.
- Procedimiento de verificación de nivel de aceite.
CARACTERÍSTICAS TÉCNICAS

• Fuente de alimentación de 220 V 50 Hz
• 2 balanzas electrónicas con margen de +/- 10 gr
• pantalla gráfica retro-iluminada
• Idioma: Español • Panel de botones con 4 teclas
• 2 tubos de alta presión de 1.500 mm con acoplamientos rápidos
• 1 filtro magnérico
• 1 sensor de temperatura del aceite
• 2 manómetros de 20 bar
• 2 medidores de flujo retroiluminados
• 2 grifos
• 2 ruedas de dirección delanteras con bloqueo
• 1 cable de alimentación
• 1 kit estándar de conectores